Ebbets Field Apartments, home of a diverse and friendly community of 1300 residents, sits on the former site of the famous baseball field of the Brooklyn Dodgers, on the western edge of Brooklyn's Crown Heights neighborhood. This H-shaped complex is located just steps from the Brooklyn Botanical Garden.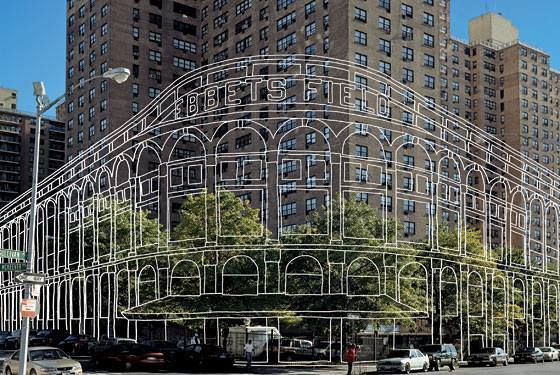 You can reach out to Ebbets Field Apartments by the Prospect Park Subway Station B/Q/S, or by the Franklin Ave 2/3/4/5/S, or by a short walk from Prospect Park.
A Little bit of History
The modest place, between Brooklyn's Crown Heights and Prospect Lefferts Gardens neighborhoods where now Ebbets Field Apartments is located, was a famous baseball stadium, home of the Brooklyn Dodgers. However, back in the past, before the stadium was built, this site was home to generations of families and thousands of pigs.
Between the late 19th century and the early 20th century, it was a poor neighborhood, famous under the name 'Pigtown'. This neighborhood served as a home of Irish and Italian immigrants and was characterized by shanties, ash dumps, garbage piles, and, of course, pig farms with their associated stench.
In 1912 a plot of land in Pigtown was bought by Brooklyn Dodgers owner Charles Ebbets. He bought this land in order to build a new field for the Brooklyn Dodgers by Bedford Avenue on the East and Sullivan Place on the South. Since the field was built, the neighborhood started becoming a developed and urban neighborhood.
Ebbets Field was sold to a local real estate developer at the end of the 1956 season. The baseball stadium was demolished in 1960. After two years, the Ebbets Field Apartments complex was fully completed. At that time, Ebbets Field Apartments was the largest state-subsidized housing complex in the five boroughs.
In 1980, the complex was acquired by a housing company called, Fieldbridge Associates LLC, which is its current owner. This company has done significant improvements to this housing complex.
Ebbets Field Appartments in the Present
Currently, this complex offers 1, 2, and 3 bedroom apartments along with large studios. Almost all of the units have spacious rooms, and great closet space, with gas and lights included and many of them have balconies. Views of Prospect Park, the statue of liberty and the Manhattan skyline are offered by the units located on the west side of the building.
The onsite amenities provided by this complex include children's playgrounds, onsite parking garages, and state-of-the-art laundry rooms.
Ebbets Field Appartments' current landlord is Sholom Drizin. He is committed to providing high standards of service, 24-hour security, and onsite maintenance and porter staff to his residents.