Ebbets Field Apartments is an H-shaped housing complex, with 1300 units. The housing complex offers large studios along with 1, 2 & 3 Bedroom apartments. Ebbets Field Apartments features modern construction, spacious rooms, and great closet space, with gas and lights included.
Many of the units of this complex have a balcony, and those located on the west side of the building offer views of Prospect Park, the statue of liberty, and the Manhattan skyline.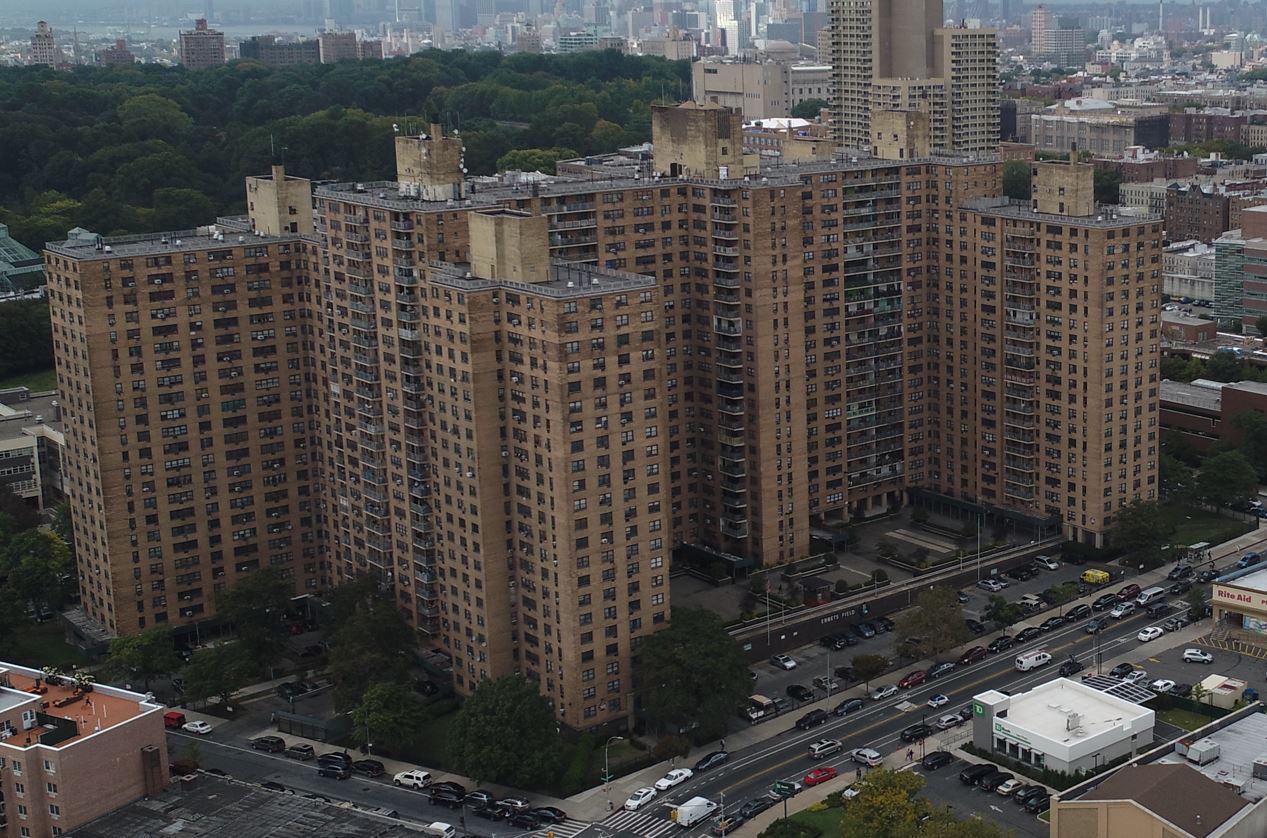 Located on the western edge of Brooklyn's Crown Heights neighborhood, steps from the Brooklyn Botanical Garden, Ebbets Field Apartments is home to a diverse and friendly community. This housing complex sits on the famous baseball field of the Brooklyn Dodgers.
In the past, before the Ebbets Field stadium was built the place where this complex is located, was a poor neighborhood, a home to generations of families and thousands of pigs, known as Pigtown.
In 1956 Ebbets Field was sold to a local real estate developer and in 1960, the Brooklyn Dodgers stadium was fully demolished. A new housing complex was built in two years. At that time, it became the largest state-subsidized housing complex in the five boroughs.
Fieldbridge Associates LLC, which is its current owner of the housing complex, acquired the ownership of the Ebbets Field Apartments in 1980. This company has done greater improvements in construction.
Fieldbridge Associates LLC, which is located in Brooklyn, New York, has been operating in the Apartment Building Operators business/industry within the Real Estate sector for over 32 years. This company employs approximately 60 people at a single location.
The current landlord of Ebbets Field Apartments is Shalom Drizin, a real estate developer from Brooklyn. Drizin takes pride in providing all residents with high standards of service, 24-hour security, on-site maintenance, and porter staff. He is an experienced real estate investor, who serves as the Head Officer of Fieldbridge Associates LLC. Other than Ebbets Field Apartments, Drizin owns a number of real estate properties in New York.
Amenities and Features
On-site services: laundry facilities, maintenance on-site
Community features: an elevator.
Outdoor features: controlled access, courtyard.
Recreation and Fitness: a playground.
Interior features: heating, tub/shower, cable ready.
Kitchen amenities: oven, kitchen, stainless steel appliances, refrigerator, range.
The living area features: tile floors, a dining room, walk-in closets, hardwood floors.
Utilities included: trash removal, heat, water, electricity, gas.
Nearby Schools: Ps 241 Emma L Johnston, Ebbetts Field Middle School.
This apartment complex is easy to access by the Prospect Park Subway Station B/Q/S, or by the Franklin Ave 2/3/4/5/S, or by a short walk from Prospect Park.